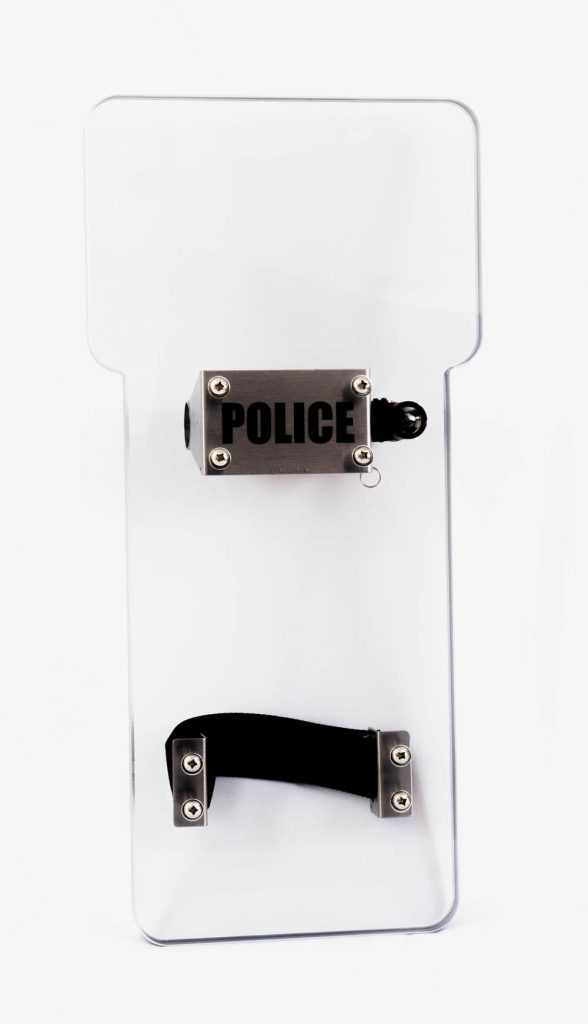 TAC II Shield
Made for expected firearm threats
Can be used as an impact weapon
Complements the ballistic vest with head and neck protection
Prices
$591.00      TAC II Shield 1000 NIJ II
$643.00      TAC II Shield 1250 NIJ III-A
All prices are without accessories or customizations.
Product Description
TAC II SHIELD
Made for anticipated threats
Like the TAC Shield, the TAC II Shield was created for anticipated threats where immediate response is not a critical factor.
The TAC II Shield is a great tool for:
in-progress calls
suspicious persons
suspicious vehicles
felony stops
building searches
active shooter
or any potential dangerous situation
The TAC II Shield was created for larger LEOs and provides a wider viewing area. Like the TAC Shield, the TAC II Shield is used for anticipated dangers where the "immediate response" factor (time) is not as critical as with the I.R. Shield. The TAC II Shield is a great tool for responding to and engaging an active shooter. These Shields are very popular with first responders, Warrants, SROs, Security Check points (courts, airports, etc.), TNT (tactical narcotics), SWAT (attic Shields and linear tactics) Marine Patrol, etc. Like the TAC Shield, the TAC II Shield can be mounted to our locking headrest mount, cages, podiums, seat backs (front and rear) or at staging areas throughout buildings.
Technical Details
Overview
Dimensions: 11.5″ wide above the handle and 9.5" below the handle by 24″ long
Weight: 13 lbs to 14.5 lbs (depending on thickness and accessories)
Threat Level: NIJ II and NIJ III-A
*In in-house testing, the 1 inch NIJ II Panel stopped a .44 Magnum 240 Grain SJSP which is a classified as a III-A Round.
Materials
All stainless steel material
1 3/4 inch heavy duty nylon forearm strap fro greater support and control
Accessories
Front contact light assembly
Side handle search light assembly
SS locking headrest mount
Seatback carrier mount
Break-A-Way sling
Standard or special department logo
Order
Orders can only be made directly through the office of METT-T.
Please contact us directly either via email (office@mett-t.com) or phone.