Welcome to my website! Before I introduce my products, please allow me to briefly introduce myself and the reason behind the creation of my Clear Ballistic Shields. I am a retired police officer with 35 years of experience from a large police agency in south Florida. 17 of these years were dedicated to SRT (SWAT) as an instructor and team member with over 650 call outs. In addition, both of my sons have chosen careers in law enforcement and are presently still serving. I therefore consider myself less as a vendor and more as part of the law enforcement family. Please click here to learn more about my company.
METT-T is a sole source company and the only manufacturer and distributor of the I.R. Shield and our line of TAC Shields and custom mounting systems. All of our clear ballistic shields are created with the LEO's safety and daily encounters in mind.
The initial idea for my clear Shields, especially the I.R. Shield, came when two Miami-Dade Warrants detectives were shot and killed on 01-20-2011 while serving on a US Marshals Fugitive Task Force in Miami. They were both shot in the head ambush style at close range. One was a family friend.
My 35 years of law enforcement experience was the foundation for creating my line of clear Shields and the two fallen Miami-Dade detectives was my motivation. I know what is needed and I know what will work, especially in today's world. I believe that my Shields and Shield Mounting Systems can become an operational and safety standard for law enforcement across the country. If I can save just one LEO's life, all my time and energy dedicated to creating these Shields will have been worthwhile.
Ever since Columbine and other mass shooting incidents, the responsibility of engaging an active shooter has shifted from SWAT to the first responder. Since time is the critical element, waiting for SWAT to mobilize and respond is not an option anymore. Immediate engagement by the first responder is now a must in order to save lives. Engaging without the proper training and equipment could result in an undesirable outcome to the victims as well as the first responders. Whether it is a school or workplace shooting, a terrorist incident or a lone wolf attack on our LEOs, the immediate action taken by the first responder will have a profound effect on the outcome. These incidents cannot be predicted nor eliminated, but well trained and equipped first responders can minimize casualties, including their own.
A LEO's job is to, "protect and serve"… Mett-t's goal is to make this job safer!
Since METT-T's initial entrance into the clear ballistic Shield market in 2011, we now have expanded our ballistic footprint and capabilities. This is primarily due to TSS (Total Security Solutions) agreeing to manufacture our products, that include, but are not limited to; ballistic security desks, ballistic barriers, walls, windows, doors, etc. Whatever your security needs, METT-T will make it happen. We chose TSS because of their capabilities, their product quality and our mutual professionalism. In addition, Mett-t will install anywhere in the country.
METT-T is also a security consulting firm. Our former law enforcement and military professionals are available to provide threat assessments for courts, schools, businesses, municipal buildings, etc. If you have a security problem or concern…give us a call!
DUE TO THE ON GOING UNCERTAINTY OF THE COVID-19 VIRUS AND THE CURRENT CIVIL UNREST IN OUR COUNTRY, METT-T HAS DECIDED TO ALLOW SALES OF OUR SHIELDS TO THE REGULAR PUBLIC. INQUIRIES AND QUESTIONS SHOULD BE DIRECTED TO: office@mett-t.com OR BY CALLING 352-357-5045.
THANK YOU,
TED / CEO
From the initial assessment to the end product, METT-T will deliver!
METT-T Government Contractor SAM Cage Code: 777E3 DUNS#: 046155592 TIN# 27-3478045 ANID# AN01014243240
---
Our Products
In August of 2019, ATF awarded Mett-t a government contract #15A00019FAQ000365 for our Shields. This contract included US Marshals and DEA. ATF tested several clear ballistic Shields over a period of about 1 year. This was a very rigorous test that included; testing the handles, testing the forearm strap and mounts, shooting the bolts and shooting to failure. Mett-t's Shields came out on top and were chosen.
With my 35 years of police experience in several fields of law enforcement, I created my Shields with the LEO's safety and operational necessities in mind. These are small, clear, high speed Shields made for specific applications in the law enforcement and security fields. From our I.R. Shield for uniform first responders, to our TAC Shields for active shooters, my Shields are one of a kind! Unlike other larger Shields with small view ports, our Shields are totally transparent for greater target identification and target acquisition. The user's eyes can transition freely from behind the Shield and off the Shield without encountering any blind spots. This is very important property of the Shield especially when tracking a threat.
Our Line of Shields
Our Clear Ballistic Shields and Shield Mounting Systems are used by:
First Responders
School Resource Officers
Warrants
TNT (Tactical Narcotics Teams)
SWAT (Attic Shields, Linear Tactics, etc.)
Gang Units
Court Security
Security Check Points
Airport Police
Marine Patrol
K-9
DEA
US Marshals
ATF
Veteran's Administration Police
HIDTA Task Forces
Peru
---
If you can plan it…we can build it to your required specifications. We also install anywhere in the USA.
I.R. Organizer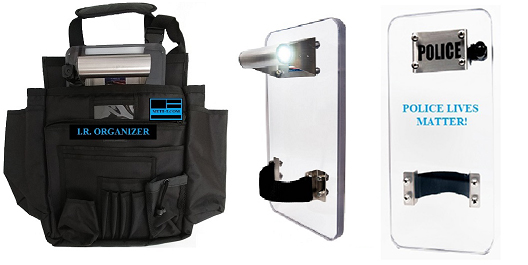 Mett-t created a Police Organizer to include a special pocket for our I.R. Shield.
Price: $70.00
The Organizer has a strap which is used to attach it to the headrest of the passenger side of the vehicle. The Organizer protects the Shield from damage while always at arm's reach for immediate response. Mett-t believes that this combination will make a difference in the safety of our LEOs. Please go to our I.R. Shield product for further information about our I.R. Shield.
---
BALLISTIC SECURITY DESK
BALLISTIC SECURITY DESK
With the unfortunate number of shootings that seem to occur daily in this country, the demand for some type of ballistic protection is at an all time high. Mett-t has therefore expanded its ballistic footprint to include this type of protection. Many businesses, municipal buildings, courts, schools, etc. are now incorporating some type of ballistic protection against a potential active shooter(s). Our first product that we created is a ballistic security desk. This is our generic UL 752 level 3 or NIJ level III-A desk. This desk can be seen in our products section. If you need a desk with different dimensions or a higher protection level than NIJ III-A, let us know!
Our Ballistic Capabilities
Thanks to TSS (Total Security Solutions) who agreed to manufacture our products, we now also offer UL 752 level 4-8 or NIJ level III protection. These products include but are not limited to; ballistic security desks, ballistic doors, ballistic barriers, ballistic walls and windows, etc. Give us a call about your security needs or your special project…Mett-t will make it happen! We also install nationwide!
If you can plan it we can build it.
We install anywhere in USA and we build to your required specifications.