To ensure that our Shields adhere to the strict NIJ testing standards, several in-house tests have been conducted using various types of ammunition with multiple hits. More hits than the National Institute of Justice requires.
The pictures below show one of our (1 inch NIJ II) I.R. Shields shot with numerous rounds of various caliber; to include a .44 magnum which is considered a NIJ III-A rated round.
The Shield seems to catch the round with no or minimal or no ricochets. There is also minimal spalling, white out and no de-lamination or separation. Even after multiple hits, the Shield is still transparent enough to identify additional threats.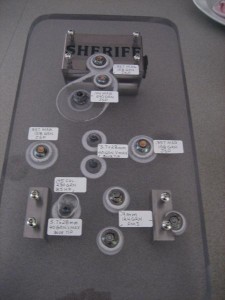 Notice the Shield to the left with multiple hits of various caliber rounds.
minimal white out
minimal spalling
no de-lamination
no separation
still transparent enough to engage additional threats
A Closer look.
The above Clear Ballistic Shield Tests have been carried out using different types of ammunition.

A closer look shows the various types of ammunition used:
.45 cal.
.357 mag.
9 mm
5.7 x 28 mm
.44 mag